In the last decade, Israel saw a rapid boom in the industry of binary options trading. Israel's binary options trading generated revenue of up to $5 billion and $10 billion per year. The size of the industry is big and is a host for over 100 companies. In fact, the binary options industry within Israel consists of call center operators, brokers, traders, programmers, salespeople, and affiliates. 
But in the year 2016, everything changed drastically! There was a revelation that some of the companies involved in the binary options trading Israel industry were involved in some adverse practices. They were bilking millions of dollars from some unsuspecting clients. There was a big expose by the Times of Israel to impose investigations on the industry.
The regulators and the Israeli government took the effort to crack down on the internal insights about binary options trading and its associated attributes. So, referring to that, there are questions regarding the legalization of binary options trading in Israel. So, this guide gives you a better explanation of this factor to help you trade binary options with more legal clarity.
What are Binary Options?
What you will read in this Post
Binary options trading in Israel is a serious source of earning for most traders. And it is because binary options trading involves less hassle and requires less expertise for maximum earnings. The only thing you need to take concern about is, studying the market signals and asset performances. Hence, this will help you predict whether the price of an asset will be going up or down within a specific time span. And that is how binary options trading works!
Binary Options trading comes with candlestick charts that allow you to study the price fluctuations of an asset. It is essential for you to know how to study these charts to analyze their movement pattern. Binary options trading allows you to start with low investments. You do not have to spend hefty amounts for buying and holding some stocks. Instead, it will enable you to invest and earn immediately in a short time window. 
There are risks with binary options trading, but with ideal strategies, you can minimize them. Remember, the risks can just be minimized and cannot be completely eradicated. So, the only way to suppress these risks is to analyze the asset's price movement perfectly. Stay updated with news and market updates regarding your selected asset to get a prior idea of whether the price will move up or down.
Are Binary Options legal in Israel?
Binary Options trading in Israel is not legal for the citizens if they turn up to rely on local brokers. But, it is still legal if they prefer trading with offshore brokers. Currently, there is no such regulation upon binary options trading with offshore brokers within the country. But that is about to change soon! The financial markets within Israel are under the regulatory authorization of ISA (Israeli Securities Authority).
ISA hasn't actively imposed any kind of regulation on binary options trading in Israel. And due to this, there was a massive proliferation of all of the companies that are operating within this huge booming industry. As there were no guidelines or rules to streamline binary options trading operations in Israel, the companies started to adopt or turn up to this industry.
With the rapid growth of companies, ISA decided to look into the binary options market. And with that, they put up the decision to start with the implementation of certain rules in order to protect Israeli traders. The traders were the ones investing their money and were risking it for a high loss ratio. Therefore, lack of genuineness needed an eradication, and ISA was proposing to do the same.
How to trade Binary Options in Israel?
Binary options trading in Israel is a complex task! There are many legalization hassles due to trading with local brokers or companies. Therefore, if you want to trade with binary options, you need to rely upon offshore brokers. And, the brokers you connect with should have the licensing and regulation for offering their trading services to your country. Even though they have their license and regulation highlighted over the website, you need to validate it to know the genuineness.
You can go to the respective website of the licensing authorities to verify if the license code is valid over the server for the broker or not. For instance, if a company claims to be under the regulation of CySEC or IFMRRC, then they will have a license code that will be registered within the servers of the regulatory bodies. Validate it, and then you can trust to trade your money over those platforms. 
In addition to that, you should always check the terms and conditions of the broker platforms that you intend to rely on. It is because some brokers might have some hidden conditions that will cost you money in the long run. Therefore, it is better to be aware with prior knowledge about their terms & conditions.
Apart from that, you need to check the deposit options, commission charges, withdrawal time, minimum deposit, minimum trade amount, and other such options before choosing any of the offshore brokers. After you have made your satisfactory decision of choosing a broker, you need to learn the steps of the approach. The steps are:
Make your minimum deposit over the broker account. The minimum deposit amount varies from broker to broker. So, make sure you go with the broker that has the minimum deposit amount.
Choose the asset that you want to trade with. The availability of assets varies, depending upon the broker's policies. Explore the list of financial instruments available with your broker to known your options.
Select the expiry duration, which will act as the window or limit of your trade.
Choose the price of the trade that you want to invest in. You can either enter the minimum amount or up to the highest limit, as set by the broker.
Now, make your prediction of whether the price will go up or down within the expiry duration. Make sure you study the asset's price fluctuation pattern before you make the prediction.
And then you just have to wait for your prediction to be true by the end of your expiry duration. Some of the broker platforms allow you to close the trade in the middle of your expiry duration if you find it risky to continue further. In such cases, the payout might reduce, but the profit is guaranteed! Hence, this is the way of approach for binary options trading in Israel!
Brokers and platforms in Israel
The options of brokers overseas that can offer services of binary options trading in Israel are few. But the ones that are readily available for offering the service are licensed and regulated without any hesitations. Therefore, Israeli traders need to take a glimpse at these broker platforms to carry out their trading needs. These platforms are shortlisted by proper comparison and analysis. So, these are the top three among the others. The platforms are: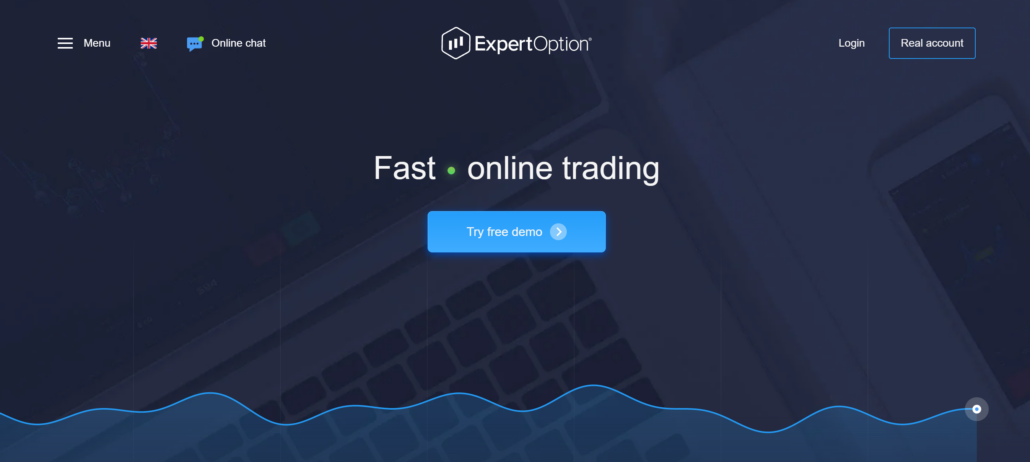 #1 Expert Option
Expert Option is one of the best platforms that offer deposit bonuses ranging from 25% to 125%, depending upon the amount of deposit you make. In fact, there are very few broker platforms that are actually offering binary options trading in Israel. And Expert Option is one of the top names for the same. 
It comes with a demo account that leads you to practice trading with $1000 virtual funds. You get to trade with 100 assets over the platform, and this platform is licensed under VFSC (Vanuatu Financial Services Commission). You can trust its genuineness, as it is already offering its binary options trading services to over 3 million users from all across the globe.
There are four accounts that are mini, silver, gold, and VIP. The deposit bonuses for these accounts are 50%, 80%, 100%, and 125%, respectively. Also, the minimum deposit over Expert Option is $50, which is for the mini account. The minimum deposit increases with higher account tiers.
#2 IQ Option
IQ Option is one of the best platforms, and it has impeccable features and perks for the binary options traders over Israel. It is operating under the regulation of CySEC, which proves its genuineness for offering services of binary options trading in Israel. The minimum deposit requirement for IQ Option is $10, whereas the minimum trade amount is $1! 
IQ Option also offers some tiered bonuses over its platform to help the trader get that leading edge. Moreover, it also offers a demo account for the new traders to practice their moves and strategies before investing in the live account. If you want to trade on the go, then IQ Option gives you a mobile application with an intuitive interface for trading.
Under IQ Option, you can trade with several assets, including forex, stocks, commodities, cryptocurrencies, and others. You can get a maximum payout of up to 95% over successful trades. The payout might vary depending upon the liquidity and market performance of the assets. IQ Option has legal permission to operate with traders of Israel.
#3 Binomo
Binomo is one of the most intuitive binary options trading platforms amongst all. It is a safe platform that mostly operates over an application. This platform is mostly preferred for the short-terms trades that are more efficient in terms of speeding up the earning pace. Binomo consists of over 20 tools for graphic aid in order to implement chart analysis for accurate predictions.
Also, it has the license to carry out binary options trading Israeli services without any legal concerns. Binomo has a desktop and mobile application with an optimized interface for both. You will find it easy to navigate through options and trade with your selected assets. For a better insight into how to utilize the platform effectively, you must use the demo account on priority.
The minimum deposit requirement for Binomo is $10, while you can start your trade with just $1. The maximum payout or return can be up to 90%, depending upon the asset. You get to trade with 40 different types of assets over the platform. 
Regulations in Israel
ISA made an initial decision by observing that they need to prohibit the way binary options trading is being offered and traded among the Israeli trader. The local brokers were the first loophole under the radar of ISA that was taken out. When the local markets were down, the companies and the traders started looking up to the offshore or foreign brokers for their concerns regarding binary options trading in Israel.
There was a rapid multiplication of companies within the binary options industry in Israel. Those companies were imposing some critical sales tactics. Some of the companies were even able to bring in funds from overseas traders. Everything was quite organized under the cloak for these companies and traders until the Times of Israel unfolded the scams carried out by most of these companies.
There was a suicide case of a Canadian Citizen in Israel connecting to this industry. Thus, ISA gave its complete attention towards binary options trading Israel. And there was a decision by the authorities to pass recommendations to outlaw this trading industry entirely in Israel. This is the scenario of 2017. The Knesset raised a vote for banning the binary options trading aspects entirely in Israel.
Currently, the industry of binary options trading in Israel is on the verge of extinction. And many traders who followed the positive approaches of using this trading format are left stranded. Legislation has been passed for the companies and brokers within the country that are offering binary options trading services to foreign traders. The country will treat this as a criminal offense and will punish with the incarceration of up to 2 years in the country.
The Israeli traders can invest in binary options with licensed and regulated brokers from overseas. There are few but genuine listed brokers available across the globe to support you with the progressive earning potential of binary options trading. All of the earnings that you make with binary options trading will be taxable in Israel.
Education for Israeli traders
Even though there are strict regulations on binary options trading in Israel, you can still leverage its potential. You do not have to violate any of the rules, as they are mainly for the companies and not for individual traders. For usual Israel citizens, it is important that you understand the price movements of the assets.
Every time a price fluctuates, there is either an increase in demand or a decrease in supply at the actual market. You need to stay updated with the news revolving around those assets you trade with. Hence, it will give you a prediction of whether the price will hike or drop. And binary options trading is all about what you can predict correctly.
When you have chosen the broker and have made your first deposit, it is time for you to select your asset. Remember, you need to pick the asset that you have knowledge about. For instance, don't go for cryptocurrencies right away if you are not aware of how volatile their price fluctuations are. You should go with the financial instrument that you have researched upon.
If you haven't researched any of the assets, then take a break and get some idea! In the meanwhile, you can consider using the demo account to practice the skills and strategies of trading binary options. When you feel ready, go into your live account, and choose the asset that justifies your trading strategy. 
Now, it is time for you to choose the expiry duration. You need to learn about choosing the expiry period because this is what changes the game! Your expiry period is what will decide whether your trade is successful or not. It doesn't matter if your prediction turns out to be correct before or after the expiry window; you will lose the trade. Therefore, timing is also an important consideration. And for that, you need to study the pattern of fluctuation or price movement of an asset.
When you choose the trade amount, make sure you start with the minimum. The professionals do not start with a minimum, but the beginners should take serious note of it. Starting with a minimum trading amount will help you learn from your success or failures. Do not risk a big amount right from the beginning! Learn the strategies, and gain confidence before you can invest and risk big.
Hence, that is all that you need to learn about binary options trading in Israel. Now, you have all of the information and insight into how to make a trading approach for the same.
Conclusion
Put an end to your search for the best broker platforms, as the options are very few. If you are an Israeli trader, then the above options would be the best bet for you to make your trades and earn your profits. Keeping all that aside, you should also follow the regulations imposed by the country authorities. And by observing that, you should stay away from scammers, unregulated brokers and refrain from pursuing any illegal means.