What are Binary Options? – Definition
A Binary Option is a financial product known as the "All-Or-Nothing" option where the outcome is based on two different options. You can win a high return or lose your investment amount. It is a simple "yes or no" option, which is why it is called "binary".
You suggest that a current price on the stock exchange will go up or will go down within an expiration time. If you are right in a certain timeframe, you earn a monetary amount that is fixed by the broker. The trader can choose the timeframe (binary options expiration time) on the broker's platform. It is possible to trade options from 30 seconds duration up to 2 months duration or even more. It only matters if the price is higher or lower than your strike price when the expiration time ends.
Key facts:
A Binary Option has only a win-or-lose result.
Traders can earn a high return depending on the broker's offer.
A Binary Option expires after a fixed expiry time and shows the result immediately afterward.
The risk is limited due to the whole investment amount.
Binary Options are regulated in the US but are traded mainly offshore in other countries.
Try out the Binary Options functionality:
Click on one of the buttons and see the result
Congratulations, your prognosis turned out to be correct!
(Risk warning: Trading is risky - Your capital is at risk)
Your profit $0
Unfortunately, your prognosis turned out to be incorrect...
Binary Options are offered by OTC (over-the-counter) Brokers who match the orders between different traders.
The investment amount can be little as $1 or high as $1,000. This depends on the platform where you trade Binary Options.
Even if you are a beginner in binary trading, starting with a free demo account is recommended. That means you are trading with virtual money and do not risk any real money on the markets.
Binary Options example:
To start binary trading you follow these steps:
Choose the asset you want to trade
Make a forecast of the future price movement (up or down)
Choose the expiration time of the option
Choose the investment amount for the trade (it starts from $1)
Start the trade and enter the market on a strike price.
Wait till the expiration time is over and the binary option expires
The price has to be up or below your strike price (depending on the trade direction)
Make a profit of up to 100% or lose your investment amount
Moreover, read our full guide on how to trade binary options!
Our reviewed binary options brokers – start trading binaries here:
Accepts international clients
High payouts 95%+
Professional platform
Fast deposits/withdrawals
Social Trading
Free bonuses
Min. deposit $10
$10,000 demo
Professional platform
High profit up to 95%
Fast withdrawals
Signals
$10 minimum deposit
Free demo account
High return up to 100% (in case of a correct prediction)
The platform is easy to use
24/7 support
Our topic overview to learn Binary Options:
To calculate the profit, you can use our internal tool, the profit calculator:
By using the tool below, you calculate the profit or loss in binary options trading. Insert the investment amounts, return by the broker, and amount of losing and winning trades. Then you see the overall result of your binary trading. For more information, you can visit our binary options profit calculator page.
Most important terms of Binary Options:
Underlying Asset – It is the market on which you trade binaries.
Expiry Time – When the binary option expires, you will receive the final result of the trade.
Strike Price – Your price where you started to buy or sell a binary option. The price has to be above or below to make a profit.
Fixed amount of profit – The possible return of the binary option
Call Option – You invest in rising prices
Put Option – You invest in falling prices
The underlying asset of a binary option
The underlying market can be stocks, commodities, cryptocurrencies, forex, or ETFs. It is depending on the broker which assets are offered. The trade just buys or sells an options contract on these underlying assets. It is no real investment in the asset like buying gold from a retailer. You just trade the options contracts.
Expiry time of an option
The binary option always closes on a fixed expiration time. For example, you can trade 30-seconds, 60-seconds, or even 1-month Binary Options. It is depending on the broker you choose and which expiration dates are available. If the expiration date is reached, the underlying asset price has to be above or below your price target.
Price target/strike price
The price target is your basic entry point or strike price. If you start to buy or sell a binary option the strike price is the current market price. So it is very important to have good timing on your side. Even if you miss your price target by 0.1 points you can lose your entire investment. But on the other side, you can win a high amount of return if you are right. Maybe you ask: Can I have two price targets? – The answer is simple: This is not possible.
Fixed amount of profit
A binary option has a fixed amount of profit which is fixed by the binary options broker. The fixed payout can be 60%, 70%, or even 90% of your investment amount. But keep in mind you can lose your entire investment if you make the wrong trading decisions. There are only two outcomes: You lose or win. The fixed payout is also depending on the underlying market you trade and the expiry time. Sometimes there are three types of outcomes of a binary option trade: You lose, you win, or you get the money back when the market exactly hits the strike price
Call option and put option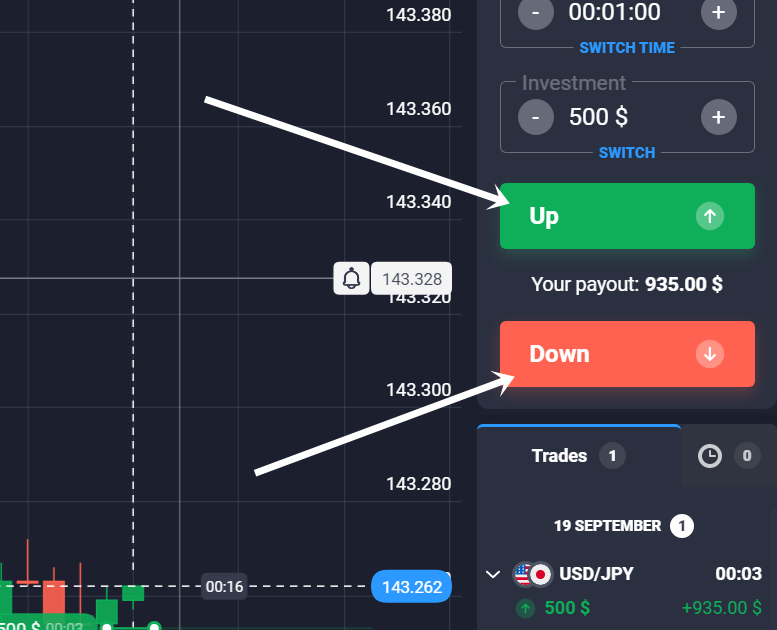 Binary Options is a simple trading product with limited risk. There are only two ways to trade it: You got call options and put options. Call option means you say a binary options market will rise above a certain price in a limited expiry time. A put option means you say a binary options market will fall below a certain price in a limited expiry time.
Advantages and disadvantages of Binary Options:
Advantages:
Limit risks
High profit available
Short-term and long-term trading
Easy to understand
Professional platforms available
Can be used for hedging
Can be used on any financial market
Disadvantages:
Can become addictive
There are some bad brokerages out there
Not available in every country
Are Binary Options legal or not?
Many traders are asking if Binary Options are legal or not. This question is necessary when we talk about regulated and secure online trading. In the past, there were a lot of scammers in the Binary Options industry. Many regulators warned about these issues and start regulating the financial product even more. Nowadays it is important to use a trading platform that has regulatory oversight by an authority.
Binary Options are fully legal to trade in 99% of countries. There are some exceptions for retail investors:
European Union: Binary Options are not allowed to sell for retail traders
Canada: Binary Options are banned
Israel: Binary Options are banned
Australia: Binary Options are not allowed for retail traders
Binary Options are legal to trade:
The financial product is legal to trade for investors and retail traders. Even professional traders can trade Binary Options. A trader can just sign up with a suitable binary options broker and start binary options trading. Some of the Binary Options brokers are not regulated. So you should be careful and check up with your regulator if you can trade there. Most of the time it is legal to open a trading account.
Are Binary Options banned in Europe?
In the European Union, it is only allowed to sell Binary Options services to professional traders. That means brokers in Europe can only accept professional traders for Binary Options trading. For being a professional trader you will need more than € 500,000, a high trading volume, or financial education. If you apply for 2 of these points, you can trade Binary Options as a professional trader in Europe. Moreover, you can trade with a broker outside Europe, but this is not regulated. Most platforms were related by the Cyprus regulator CySEC during the years 2010 – 2018.
Binary Options are legal in the USA
Binary Options is an official financial product in the United States of America. American citizens are allowed to trade Binary Options, but it has to be with a regulated broker checked by a U. S. regulatory in the USA like the CFTC (commodity futures trading commission).
But pay attention to unregulated binary option brokers. The FINRA (Financial Industry Regulatory Authority) already warned about unregulated entities which are offering services to US traders. If you do not know about the status of your broker, you can simply use the FINRA´s broker check: https://brokercheck.finra.org/
The most important regulators in the USA:
Trading Binary Options is available in the US via the north american derivatives exchange (NADEX). It is one of the regulated trading platforms. You can buy or sell a binary option with a few clicks there.
Regulations of Binary Options
Nowadays, there are only a few regulated Binary Options brokers. Most of them are unregulated. In different countries, there are different regulations. Before you sign up with a broker, you should check the regulation status in your country. From our experience, most brokers accept clients from 90% of countries. You can also check on the broker's website if the broker works in your country. A lot of brokers are blocking clients if it is not allowed to trade Binary Options in their country.
Binary Options trading platforms and brokers
If you start Binary Options trading, you might find a lot of internet-based trading platforms. But which one you should choose for your investments? A Binary Options broker offers you to trade financial instruments based on underlying assets. The broker is the middleman between the financial markets and the trader. For retail traders, there are offered trading applications, trading platforms, software, and live charts.
The following key points will help you to pick the best suitable broker for you. Ask these questions before picking a Binary Options trading company:
Is the trading platform regulated?
Is the trading platform legal in my country?
Does the broker offer its services in my country?
Can I use a virtual binary account to test the trading application?
How high is the minimum deposit
Are there any hidden fees?
How high are the fees for deposits and withdrawals?
Is the trading software suitable for my analysis?
How many assets are available to trade?
How high is the return on investment during the main trading times?
Does the broker offer real-time support?
As you see, there are many questions to ask before picking a broker. In our Binary Options broker comparison, we will show you our recommendations.
What are the methods of scam binary brokers?
A fraudulent binary options trading firm does not match any regulatory requirements. That does not mean unregulated trading platforms are bad, but most of the time it is very risky to start trading with them. If you start your journey of investing and you get cheated on by binary options companies the following methods are common:
Deny requests: The broker denies your request to open or close a trade. This can be very painful in volatile binary options markets.
No return of funds: The binary scam broker does not return funds to your bank account or payment methods.
Manipulated real-time charts: The fraudulent broker tells you it has the best charts and execution for trades but it's manipulated.
Fake account managers: The brokers will tell you they got an expert team that can help you to make money. All these people only want your money and they do not have good tips for your investment.
Hidden fees: The broker will charge you huge amounts of fees, for example when you try to do a withdrawal of money.
Manipulated trades: The binary broker will manipulate your winning trades and turn them into losing trades.
What are some risks for investors?
As mentioned before, trading binary options is very risky. Beginners are often impressed by youtube videos where traders make thousands of dollars in a few seconds. What they do not see is that these traders who show up on youtube or any other platforms are experienced, and they know what they are doing. You can copy their trading strategies, but you will not end up making money because of the lack of experience in the market.
You can lose your entire investment amount while trading binary options. This is the most underestimated risk when we see beginners start trading. It sounds good that you can gain a return of 90%+ on the broker website. But if you are wrong, you have a 100% loss. There is always a disadvantage in the risk-reward ratio of binary options for the investor. So you need more than 55% – 60% or even 70% winning trades to make constant money.
See the table below:
| The average return of a binary option: | Minimum of winning trades to make money (a little bit over break-even): | Win rate: |
| --- | --- | --- |
| 90% | minimum 53 winners out of 100 | 53%+ |
| 80% | minimum 56 out of 100 | 56%+ |
| 70% | minimum 59 out of 100 | 59%+ |
| 60% | minimum 63 out of 100 | 63%+ |
As you see in the calculation, you will need at least a win rate of 53% – 56% to break even (measured with an average return of 80% – 90%). To make more money, you need a win rate of at least 60% – 70%. There are different factors that influence your return:
High risk on martingale systems or double-up binary strategies
Many beginners are using a martingale system or double-up strategy to recover losses. The idea is simple and has its history in the gambling scene. If you lose a bet, you just double the investment amount. When trading binary options, you have to invest more money than just double it to recover all losses. The calculations below show the examples:
Double-up strategy with an account size of $ 10.000 and risk management of 1%. After 5 losing trades your account is bankrupt and you can not continue this strategy:
| Account size: | Losing trades: | Investment (2x) | Profit (80% average): | Net Profit (if you win): |
| --- | --- | --- | --- | --- |
| $ 9,900 | 1. | $ 100 | $ 80 | $ 80 |
| $ 9,700 | 2. | $ 200 | $ 160 | $ 60 |
| $ 9,300 | 3. | $ 400 | $ 320 | $ 20 |
| $ 8,500 | 4. | $ 800 | $ 640 | – $ 60 |
| $ 6,900 | 5. | $ 1600 | $ 1280 | – $ 220 |
| $ 3,700 | 6. | § 3200 | $ 2560 | – $ 540 |
Martingale strategy with an account size of $ 10,000 and risk management of 1%. After 5 losing trades, your account is bankrupt, and you can not continue this strategy.
| Account size: | Losing trades: | Investment (2,3x) | Profit (80% average): | Net Profit (if you win): |
| --- | --- | --- | --- | --- |
| $ 9,900 | 1. | $ 100 | $ 80 | $ 80 |
| $ 9,670 | 2. | $ 230 | $ 184 | $ 84 |
| $ 9,141 | 3. | $ 529 | $ 423 | $ 93 |
| $ 7,925 | 4. | $ 1216 | $ 972 | $ 113 |
| $ 5,129 | 5. | $ 2796 | $ 2236 | $ 160 |
| – $ 1,301 | 6. | $ 6430 | $ 2144 | $ 273 |
We do not recommend using these strategies because you can kill your trading account quickly! As you see above, you can do 5 losing trades in a row, and your account is gone even if you start with only 1% of your account balance. Learn good risk management and use a fixed amount for investments like professional traders.
Emotions and gambling
Another high risk of binary trading is emotions and psychology. Online trading is sometimes like going to a casino for a beginner. You can win or lose! When losing too much money or too many trades in a row, traders tend to do irrational trading decisions because they want to recover all losses. From our experience, it can happen that a beginner starts to kill his account because he can not believe that he lost money so quickly. Often a lot of trades and high volume are traded then. Learn to accept losses and keep on using a trading plan!
The solution against risk of losing money: Trading plan
Create a strict trading plan where you manage your trades. By using a trading plan, you need to consider the following facts:
The best way to decrease emotions is to have a trading plan where you have a rule set. This also includes a proper strategy. For example, you say the SMA of period 50 and EMA of period 20 are crossing and the RSI indicator is oversold/overbought then we start a trade and invest money. By not seeing this setup in the chart, you do not enter a trade. This is just a simple example, you can add more and more rules to it.
About us – Binaryoptions.com
Binary Options seem like a high-risk investment that is well-known by beginners and even professional traders. It is a form of betting on the markets to gain a profit or loss.
For over 10 years, we have traded and loved this financial instrument because it is a very good way to make money in a short timeframe. The construct of the Binary Option allows us to use special strategies, which we show you on our website.
We are experienced traders, analysts, and content writers who want to help the public understand Binary Options. There are so much false information and fake news about it on the internet. With our page, we want to say "NO" to losses, scams, and false information in binary options trading.
Learn more from our experiences and mistakes in the past. We will show you transparently how to have more success in binary trading.
Most asked questions:
When can you use a Binary Option?
Binary Options can be used with high-volatility or even low-volatility markets. In most cases when Binary Options are used for making money or hedging an existing portfolio. Retail investors often use this financial product to earn profit in the short term. Professional traders use this financial product to hedge an investor's account.
Are Binary Options a scam?
Binary Options are not a scam. It is an officially regulated financial instrument. Unfortunately, it is not available in many countries due to regulatory reasons. By choosing an experienced and good known broker, you are on the right side to invest with binary options.
Can you get rich by trading Binary Options?
It depends on the definition of being "rich". You can make a lot of money with Binary Options trading, but on the other side, it is a very risky method to trade the market. Most traders underestimate the risks when entering a trade. You will need a suitable trading strategy and experience to make money
Why are there so many warnings about Binary Options?
Back in the day, there were a lot of scammers in this market by using fake websites or fake price charts to steal the money of beginners. Regulation authorities started to warn about this and even forbid the financial instrument to trade. It is a very risky investment opportunity to choose when trading binary options. Keep in mind that you can lose all your invested money!