IQ Option trading platform is currently one of the leading binary options brokers. As an intuitive and trustworthy trading platform, it provides its users with various trading indicators. A tool known as Signal is very effective in assisting you in earning your plus.
The signals are excellent indicators or advisors to the traders when making transactions. This tool works with the statistical data of ongoing or completed transactions. Traders are advised to try the signals on their demo account first to understand its beneficial effects thoroughly.
What you will read in this Post
Generating the best IQ Option signals
There are different IQ Option signals for Binary Options. You can generate a free signal as well as a paid signal. These have different expiration times and are sent by email, telegram, Android App, etc. These include the information related to the asset to trade, the target price to open the trade, the direction of trade, etc.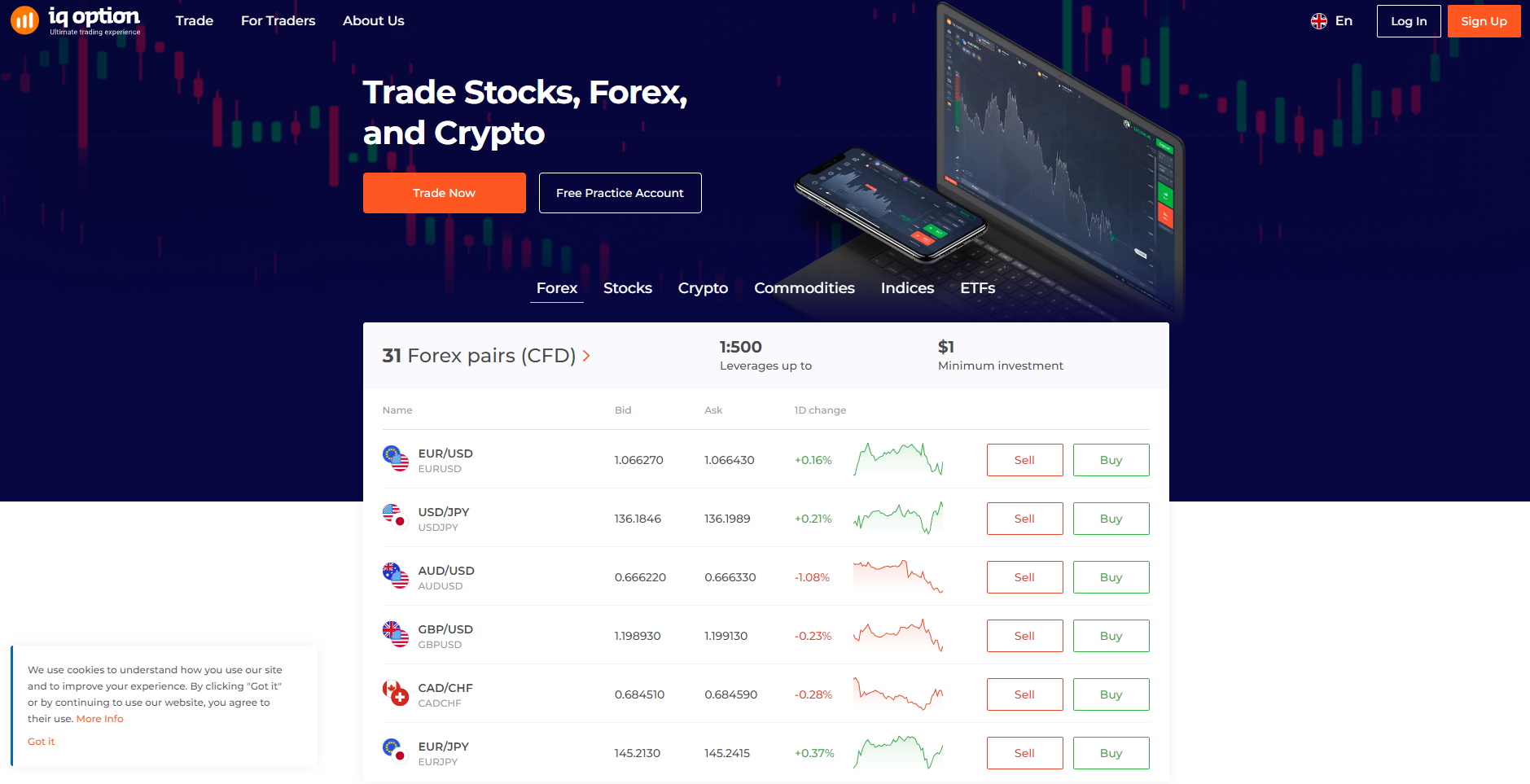 The trading signals are a valuable tool, especially for new traders. These are advantageous in replacing technical analysis with forecasting. When you choose your trading strategy, using the best signals IQ Option will vanquish the need to do any analytical work.
IQ Option signals for 5 Minutes
These new binary options signals have a 5-minute expiration time. This gives trades less time to analyze a signal to decide whether it would be useful at that particular moment. This signal comes from Telegram (a channel frequently used to send forex and binary signals) for free. All you need to do is join the related telegram group, and you will be on the receiving end of these free signals.
| | |
| --- | --- |
| Broker | IQ Option |
| Product | IQ Option Signals |
| Availability | Telegram |
| Expiration Time | 5 Minutes |
| Signals Per Day | 10 to 20 (Average) |
| Price | Free |
| Winning Rate | 75% |
Telegram Channels have become one of the most sought-after ways to send the Binary Options Signals. Traders must analyze the Signals after being received before they choose to place them.
Example of a Telegram signal
Signals & Robot ChannelsName: Binary Signals: 5 Min. Expiry TimeSymbol: AUDUSD.CBOType: SellPrice: 0.594 | Time: 2022.04.13 04:57
Here, the Name specifies the telegram channel also sends forex signals. So, you become aware of the type of signal and its expiration time through the name.
The Symbol contains. cbo when it is a Binary Options signal, and when it is Forex Signal, it would be a simple EUR USD or AUD USD.
By the Signal Type, you understand where the price of an asset is going up or down. SELL means Price is going Down, and CALL means Price is going Up.
The Price is of the asset traded (when the signal was made). This is also called a STRIKE PRICE. If the signal is a Sell Type, we can enter a similar or higher signal price. If it is a Buy Type, we will enter a similar or lower signal price.
Time is just a server reference, specifying when this signal was made or shared.
As a Trader, your focus should be to get the signals speedily to analyze and use (if you want) them. Once you are added to this telegram channel, you should keep the notifications on never to miss a signal. Telegram also has a support group for individuals to resolve their doubts and issues.
Depending on the market conditions, you may receive 1 to 2 signals per day or 10 to 20. You can receive signals anytime from Sunday to Friday for 5 Minutes (minimum due to the 5-minute expiration time) or more.
IQ Option gives its traders a 5-minute candle, i.e., the signal will be available to you for 4 minutes and a few seconds (the other seconds, say – 30 seconds, are needed for a signal to arrive and for you to check it upon arrival).
The winning factor is not the signal but how you analyze a signal and decide about it. You will automatically improve your trading results once you learn to read the market conditions and make an informed judgment.
IQ Option signals for 30 Minutes
| | |
| --- | --- |
| Broker | IQ Option |
| Product | IQ Option Signals |
| Availability | Android App or Email or Telegram |
| Expiration Time | 30 Minutes |
| Signals Per Day | 30 Signals (Average) |
| Winning Rate | 75% |
The IQ Options Signals having a 30 Minute Expiration Time can be sent from Bot as well as from Manual Trading. There will be no visible difference between the manual and the automatic signal as both arrive under the same conditions. These are sent to the traders via Emails, Telegram, Android Apps, etc.
To make a trade, you must analyze the signal to determine if it will give you effective results when used or not. You will get plenty of time to analyze the signal due to the increase in expiration time. As the winning rate is high, the experts predict that it is not frequent for traders to get 3 losses in a row.
Once you analyze a signal and have decided to use it, you need to place a trade-in in your IQ Option account. The signal will contain all the information necessary to place a trade.
Example of an Email Signal
| | | | | |
| --- | --- | --- | --- | --- |
| UP / DOWN | PAIR / ASSET | STRIKE PRICE | EXPIRATION TIME | TRADE VALUE |
| PUT | GBPUSD bo | 1.24638 | 30 MINUTES | NORMAL |
Up/ Down signifies Whether the price of an asset is going up or down. PUT refers to the price going down, and CALL refers to the price going up.
Pair/ Asset contains the asset's name that is available for trade.
The Strike Price is the entry price of an asset. If it is PUT, you should enter at a similar price or above. If it is CALL, you should enter at a similar price or below.
The Expiration Time is 30 Minutes.
Trade Value refers to the value invested in the operation. NORMAL refers to the value operated normally, and DOUBLE refers to the double value of normal trade.
How do these IQ Options signals work?
To use the IQ Option signal for receiving trading benefits, you need two things.
#1 IQ Option account
Without an IQ Option Account, you won't get the opportunity to use the signals. When you open an account – say a demo account, you can use it to test the signals and use them for trading the assets. Once you have an account, you should search for the signal systems.
#2 Subscribe to the signal
Once you have your account (whether demo or real), you can easily subscribe to the Signals in IQ Option. This will give you the option to use the IQ Option Signals for 5 Minutes and 30 Minutes via its Telegram Group.
You can select the one that works out for you after giving both systems a try.
IQ Option is one of the most popular Binary Options Brokers; it is properly regulated and is available in 200+ countries such as India or South Africa. It has a good set of indicators available to users to analyze the received signals efficiently.
IQ Option signals – Tips for traders
Here are the two main things to think of when using signals:
You must keep yourself updated on the market trends to make prompt analyses when you receive a signal. It is always advisable to place the trade as soon as possible.
If you lose a signal, you have the option of using MARTINGALE; it will double the trade value of the asset. It is risky but can be used at times of dire need.
IQ Option signals – Price
A Signal can be easily explained as an alert or a hint. In the binary options, these signals indicate the direction of a particular transaction. Trading Signals can be used as advisors and conduct auxiliary market analysis. These trading signals are a free tool for all registered brokers.
The price of IQ Options Signals will depend on your choice of a signal. Telegram Channel is free; you do not need to spend a single dime on it to receive the signals of 5 Minute Expiration Time.
The Android App or Email Signals (having a 30 Minute Expiration Time) are also free for referrals. If you are a referral at IQ Option, you will receive these signals for Free for up to 1 Year.
Conclusion: Signals on IQ Option
These signals are available because they have led to traders earning huge sums of Profit. This can only happen if you analyze the signals properly and place an informed trade rather than a trade placed through luck. You should constantly keep yourself updated with the market trends and fluctuations to generate high profits by making the right decision.
IQ Option Signals – FAQs
What will happen if the signal time zone is different from my time zone?
There will be no change in the signal information even if the time zone is different. You will receive the alert via telegram, android app, or email as per your time zone.
Once registered, how much time will it take for me to receive signals?
You will start receiving the signals immediately after registration. If a signal is sent, it notifies you. It may take a minute or two for the signal to be shared completely. 
Should I place a trade if a signal is closed already?
No, you should place a trade on the next signal (if you find it convenient). The system receives entries as long as the market is open, but a broker can choose to close the trade on an asset. You won't be able to place a trade on such signals.